Check out this video preview of World Youth Day and then SHARE A STORY with us that could earn you a FREE trip to Madrid for the 2011 event!

Travel Packages to WYD 2010 in Madrid Spaid are furnished by Youth in Europe - the official travel agency of Goodness Reigns! Learn more at the travel package at the Youth in Europe website here!

Win FREE Travel to World Youth Day 2011 OR Video Production Packages!

Individual Category Awards - Open to Anyone 14 and Older
One winner will be selected from each of the following categories. The winner and one parent/guest will receive free travel packages to World Youth Day 2011 to be held August 16-21 in Madrid, Spain OR a $4000 video production package.

The categories are:

Church History (including Bible stories and lives of the saints)
Sacraments of the Church
Church Teachings
Present-day Missionary Spirit of the Church

High School Group Award - Ages 14-18
One high school youth group (up to 10 people) will be selected from all entrants and will receive free travel packages to WYD 2011 OR a $15,000 video production package.

Young Adult Award - Ages 18-30
A winning group of up to four young adults will travel for free to WYD 2011. All winners will be invited to a film festival for a showing of winning entries OR a $8,000 video production package.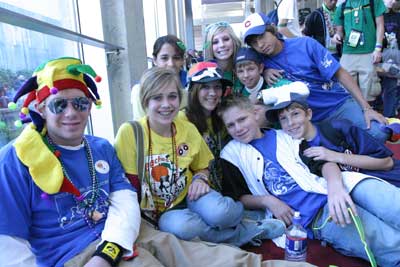 Photo by Michael Alexander/Archdiocese of Atlanta.
Photo must not be downloaded for other users.
Other Awards...
People's Choice Award
Once contest winners are announced, all films will be online so that the public can vote for a favorite film. One winner will receive a prize to be announced at a later date.
NCYC Scavenger Hunt Award
Outside da Box (the parent organization of Goodness Reigns), awarded eight video cameras to groups who participated in the scavenger hunt at the 2009 National Catholic Youth Conference in Kansas City, Missouri. (View the greatest hits video and other NCYC videos from the scavenger hunt here: http://www.goodnessreigns.com/films-ncyc.php)