Goodness Reigns: Share the Story fuses the imagination of youth and young adults with the art of filmmaking to produce short films about the Catholic faith.... and did we mention that it's COMPLETELY FREE TO ENTER?!?
THIS IS A FREE CONTEST!

Participants are eligible to win prizes that include free travel packages to attend World Youth Day 2011 to be held August 16-21 in Madrid, Spain.

For Registration Forms, Media Release Forms and Eligibility Guidelines and Contest Guidelines, visit http://www.goodnessreigns.com/contest-rules.php

How it Works:


Nov. 19, 2009 Registration & Submission Begin
Jan. 10, 2011 Films due by 12:00 midnight EST; Judging begins
April 1, 2011 Winners announced; all entries posted online
April 1, 2011 Voting begins for the "People's Choice Award"
May 1, 2011 Voting ends at 12:00 midnight EST
May 6, 2011 "People's Choice Award" winner announced
Aug 14-23, 2011 Winners travel to Madrid for WDY

Categories and Awards:

Participants must choose to produce and submit films relating to one of these four contest categories:

Church History (including Bible stories and lives of the saints)
Sacraments of the Church
Church Teachings
Present-day Missionary Spirit of the Church

One winning entry will be selected from each category with the winner and one parent/guest receiving free travel packages to World Youth Day 2011.

Also, one high school youth group (up to 10 people) and one young adult group (up to four people) will be chosen from all entries to travel to World Youth Day for free. For more details on the awards, visit http://www.goodnessreigns.com/contest-rules.php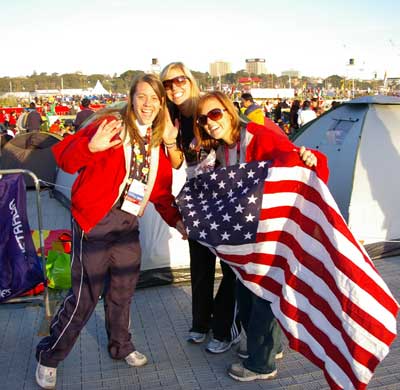 All photos courtesy of Catholic Weekly
Ready for Launch?
The contest officially begins at the National Catholic Youth Conference, held this year from November 19-21 in Kansas City, Missouri. (For more information on the NCYC, visit http://ncyc.nfcym.org)
The submission deadline is January 10, 2011. Winning entries will be announced April 1, 2011.
All entries will be available for viewing online at www.goodnessreigns.com once winners are announced.
Winning entries will be viewed at a Film Festival following World Youth Day and will be included on a DVD for future distribution.